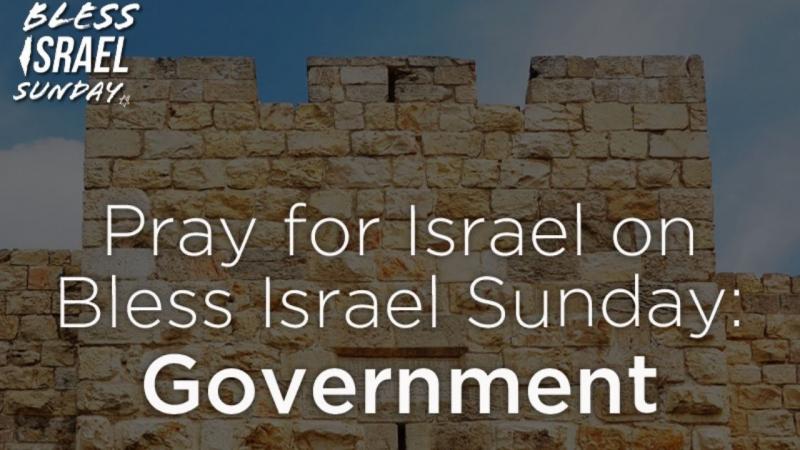 Bless Israel Sunday is an opportunity for you to discover things about God's faithfulness you may have never known before. 
In this "Pray for Israel" blog series, you'll find a prayer for Israel along with information to serve as a starting-off point from which to add your own prayers. 
Government in Israel 
Israel has both a president and a prime minister. The prime minister bears the most authority while the president (currently President Reuven Rivlin) serves a mostly ceremonial role. The last election was so close that veteran Prime Minister Benjamin Netanyahu and his opponent Benny Gantz agreed to work together with Netanyahu in the lead until mid-term when he will turn the reigns over to Gantz.  
The prime minister has the difficult task of establishing a cabinet of ministers – a "coalition government" – from among members of the Knesset, Israel's governing body. The Knesset consists of 120 members representing up to 22 political parties.  
Ambassadors and diplomats work through delicate situations between countries. Israeli officials must walk a sensitive line with nations that sometimes oppose them on Israeli-Palestinian matters.  
The United States has the closest relationship with Israel. Canada and Mexico are also strong allies, and Israel has formal diplomatic relations with more than 160 United Nations member states. Recently, in a historic agreement, the United Arab Emirates moved to normalize relations with Israel. Other Arab nations may follow suit. 
Israel borders four nations. Egypt and Jordan maintain peace treaties and full diplomatic relations with her. Egypt often works with Israel on security issues, and Jordan manages the Temple Mount in Jerusalem. To the north are two enemies. Syria wants the Golan Heights back, which would leave Israel vulnerable to attack from the elevated vantage point. If Iran's activity in Syria were to advance to the border, it could gain direct access to pursue its goal of wiping Israel off the map. Lebanon is volatile, and its terror group Hezbollah seeks Israel's demise as well.  
Pray for Israel 
God, Your Word says we are to pray for all who are in authority that we may live peaceful and quiet lives (1 Timothy 2:1‒2). We pray for Israel on behalf of her people. 
Lord, we pray for the prime minister's office, that You would bless Israel through this most vital leader. We ask that You give both Netanyahu and Gantz great wisdom to lead and protect Israel during these unusual days of partially shared leadership. Stir them to call upon You for guidance, and reveal Yeshua (Jesus) to them. Please strengthen them with integrity, and guard against anything that would interfere with their responsibilities to govern Israel well. Surround them with wise counsel to accomplish Your purposes in the defense and prosperity of the State of Israel. 
Please give each of Israel's Knesset members wisdom in all matters. Plant in them moral convictions that align with You and Your will. Give them great discernment to perceive the repercussions of decisions – both immediate and long-range. Bring these leaders together – though they come from so many different political ideologies – to lead Israel well.  
Lord, we pray for Israel's ambassadors and diplomats. Please give them a clear understanding of matters with other countries. Help them to represent Israel well and communicate with a balance of grace and boldness as required. Give them favor with their counterparts among the nations. 
Father, we pray for Israel by asking that You strengthen relationships with her allies. May those who stand with Israel do so firmly and with courage to speak out, supporting her boldly in the United Nations and on the world stage. Bless them for blessing Israel. 
Father, please protect Israel's borders. Guard and preserve the Golan Heights for Israel. Prevent Iran from gaining access to Israel through Syria. Protect Israel's border with Lebanon. Please work to maintain and enhance Israel's relationships with Egypt and Jordan. Please preserve their peace. We pray blessing on Israel and all of her cities, towns and people. We pray blessing on Jerusalem and ask You to bring her peace. 
In Jesus' name, Lord, we pray for Israel. 
Learn more about Bless Israel Sunday: What is Bless Israel Sunday?