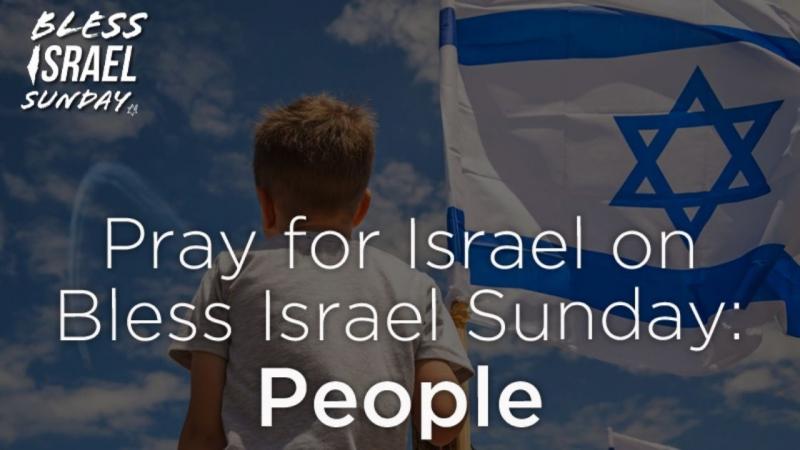 Bless Israel Sunday is an opportunity for you to discover things about God's faithfulness you may have never known before. 
In this "Pray for Israel" blog series, you'll find a prayer for Israel along with information to serve as a starting-off point from which to add your own prayers. 
People  
There is no end to a list of categories into which people can fall based on various common ground they share, whether related to age, gender, marriage, skills, interests or life experiences. These commonalities offer inspirations for specific ways to pray for Israel and the Jewish people. Here are some ideas and prayers to get you started. Let them spark other ideas for your prayer. 
Children are precious to God and among the most vulnerable of any people group. Teenagers everywhere face challenges and temptations as boundaries continue to push further away from biblical values. College years are a highly impressionable period of one's life as students move out from under their parents' world views and fall under the persuasion of new authority figures and peers to form their own ideologies. 
On another note, in any given day or hour, there are people facing some form of crisis. This includes Jewish people both in Israel and all over the world. It could be a life-altering accident, illness or injury. Or maybe it's a marriage or family crisis, a financial setback, or job loss. Some may be enduring homelessness or substance abuse or grieving the death of a loved one. 
Also, many Jewish people worldwide have a burning desire to "make aliyah," or immigrate to Israel. Doing so is a great joy, but it also comes with challenges. There is much to do in preparation, and once in Israel, immigrants must learn the language, find work, form new relationships and integrate into Israeli society. Many of them struggle for years to assimilate, while some never entirely do. 
Here's an interesting group of people to pray for in Israel: those praying at the Western Wall. The Western Wall of the Temple Mount in Jerusalem is as close as Jewish people can get to where God's Temple once stood. It's open for prayer 24/7, and at any given time, you can find Jewish people from many branches of Judaism – as well as Believers in Yeshua and tourists – praying there. Some tuck written prayers into the crevices between the huge stone blocks.   
Pray for Israel and the Jewish people 
Lord, watch over Jewish children everywhere. Protect them – body, mind and heart. Provide the nurturing that each one needs. May they grow up with a thirst for You as well as a strong moral compass and wisdom to make good, healthy life choices.  
Protect and guide Jewish teens. Please help them to manage the turbulent emotions of youth in healthy ways. Make wisdom desirable to them, and lead them to people who are honest and upright, wise and good.  
As for Jewish college and university students, Lord, You know these are critical years for the formation of their world views. Please protect them from the sway of misguided belief systems, untruths and ideologies that leave You out.  
Father, create in Jewish children, youth and the college-aged a hunger for truth that will lead them to Yeshua the Messiah.  
Lord, whatever dire situations Jewish individuals are facing at this moment, we pray that they would humbly and honestly seek You. Please give them strength, and help them "breathe" through the shattering event they're going through. Bring others around to support them along the way. Draw them to Yourself so that they may receive the shalom only available from knowing Yeshua.  
God, it is exciting to see You bringing about what Your Word foretold: You are gathering Your people from the four corners of the earth back to Israel. Please help these immigrants rise above whatever challenges they face in the Land that is both home and foreign to them. Help them learn the language and the skills they need to acquire sufficient employment. Lord, as You have drawn Your people back to Israel, bring them also to Messiah Yeshua (Jesus).  
Lord, so many people come to the Western Wall to connect with You. Many are hurting, looking for answers, or laying their needs before You. We ask that each person praying at the Wall would have a profound experience of Your presence. For those who do not know Your Son Yeshua, may they be powerfully drawn to Him and come to saving faith in Him. For those who do, we ask that You meet each one of them in beautifully personal ways, speaking to their needs and their spirits.  
In Jesus' name, we pray for Israel and Jewish people in need throughout the world. Amen. 
Learn more about Bless Israel Sunday: What is Bless Israel Sunday?