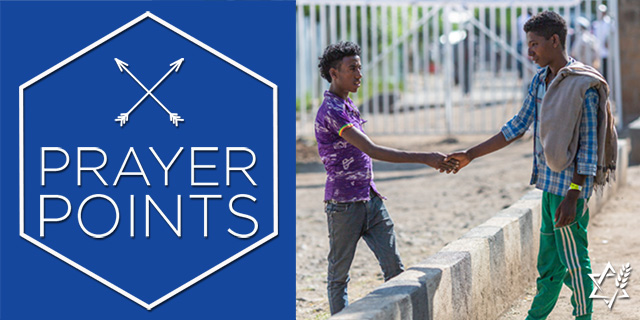 BUILDING RELATIONSHIPS AND EXPLORING CONNECTIONS
It's here! The scouting trip we've been telling you about for the last several months is starting today. We have some prayer requests to share with you and a way for you to sign up to cover the trip dates in prayer.
We are taking what we're hearing from the Lord very seriously and proactively to reach all the remaining scattered Jewish tribes over the next decade or so. In order to take the next steps, three of our JVMI leaders are currently headed to Africa to explore ministry opportunities in areas with potential for future connection and ministry.
The burden and urgency of the mandate are upon us as we follow through on giving the Lord our "yes" to be used by Him to reach dozens, hundreds, even many, many thousands of Jewish people over the next years. You and your prayers are part of this call. We are answering together.
The trip is from today, March 23, through April 3. Please pray along with us for the Lord's favor in building relationships and exploring connections at this time in expectation of open doors for future effective ministry.
Please pray for:
The three Jewish Voice leaders making this trip together as well as their families at home
Safe and easy travels – by air and ground, to and from Africa, and within and between each country they're visiting – with no issues or delays
Unity, health, protection, and good rest throughout the trip
A great time connecting in person with our Ethiopia staff members
A wonderful relationship-building day with the Messianic leaders from the three main groups in Ethiopia with which we minister – deepening relationships between them and us and them with one another
Clarity from the Lord as we fly to meet with a new group of Jewish people we are considering working with in the future
Fruitful fellowship and conversations in Zimbabwe as we visit with the Lemba people concerning their relatives in surrounding nations
A successful meeting with another group from whom we hope to learn more regarding their Jewish history and connections
Doors to open into a new nation as we meet with leaders of two groups of Believers who will hopefully help facilitate that
With each location, each group, and every individual we encounter, we need the favor, protection, and wisdom of the Lord. We especially ask that you pray for the unity of the Spirit and a shared witness of what the Lord is saying, what He is doing, and specific details as to how He is inviting us to participate.
Let's Pray: Lord, we cover in prayer our team on this scouting trip, and we pray for each moment and all the outcomes of the trip itself. Thank you, Lord, for Your help building relationships and exploring connections. We trust that You will push back the forces of darkness to create clear opportunities and strategies to break new ground in reaching Jewish people in Africa. In Yeshua's name and for Your glory, AMEN.
Sign up to cover this scouting trip in prayer, March 23–April 3, 2022.