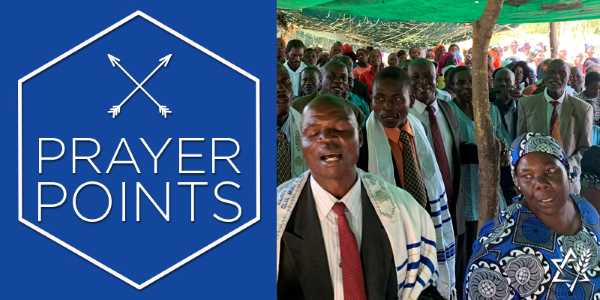 The Lord is at work wherever His people come together in His name. This has been clear in Africa, where we have seen people saved, set free and healed, as well as gathered into local Messianic fellowships of Believers. 
We are excited to revisit these African congregations affiliated with us. Last year, so much of our scheduled in-person time with them had to be canceled due to COVID-19. We were blessed to finally visit them at the end of 2020, and we are looking forward to seeing them again during the first three weeks of May.
Two leaders from our Congregational and Leadership Development Department will make the trip together from the U.S. They hope to offer great encouragement to leaders and congregants and are dependent on the Lord to minister through them by His Spirit. May this trip allow them to be a blessing and to receive in-the-moment insight from the Lord regarding the needs and concerns of these precious Believers.
The trip will be from May 2nd through May 20th, first throughout Ethiopia and then Zimbabwe. The team is deeply grateful for your prayers. Please pray for:
Safety of all kinds for our two team members as they travel to, within and from Africa,  as well as the Lord's protection over their families at home
Protection from COVID-19 and any other illness and for all COVID-testing requirements to be met without delays or difficulty
Favor with all government and local officials – as the team will travel to many locations in both Ethiopia and Zimbabwe
The Lord's grace to minister to each group and every congregant with precisely what they need to be edified and encouraged 
Protection, strength, and good sleep for our team considering the rigors of traveling long hours on rough roads to minister to as many people as possible
All logistics to run smoothly and efficiently in both countries
The clear and tangible power of the Ruach HaKodesh (Holy Spirit) in preaching and prayer for congregants and any unbelievers at the many meetings
Let's Pray 
Lord, may Your Spirit be upon our brothers as they travel and minister to these many young congregations, their leaders and members. May the gifts and ministry of Your Holy Spirit build up Your Body in every meeting and encounter. We pray that Your Kingdom will come in power and might within each nation through this trip. In Yeshua's name, AMEN.