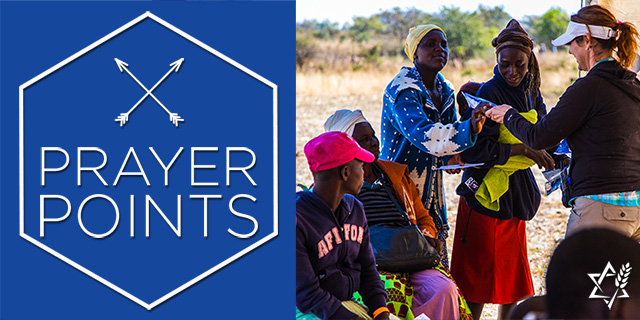 This year, and this next Outreach, mark a significant milestone for Jewish Voice Ministries. We hope you will both celebrate and pray with us.
Ten years ago, we held our first Zimbabwe Outreach in the very location we're heading to next – Mberengwa. Since then, more than 17,900 Zimbabweans have professed Jesus as Messiah during Jewish Voice Medical Outreaches. More than 178,000 have received medical care, and more than 150 congregations have formed.
Would you help us raise an "Ebenezer stone" of remembrance (1 Samuel 7:12) – through your prayers and praise – acknowledging God's help over the last 10 years as we kick off the next 10 years with this Outreach in Mberengwa on July 7–17?
Please cover these dates in prayer by signing up on our Jewish Voice 24-7 Prayer Watch schedule. You can also refer to the extended daily Prayer Points or use the shortened version below.
Please pray for:
Wednesday, 6/29 – Wednesday, 7/6 | Ephesians 6:12
The last preparation details preparations to fall into place at the Clinic location and campsite

The spiritual atmosphere of the area to be ready for the Kingdom of Light to advance

Hearts to be prepared to receive Yeshua

Forces of witchcraft and darkness to flee as the King of Glory ministers in Mberengwa
Thursday, 7/7 | 1 Corinthians 16:9
Safe travel

for all participants, including the international and domestic flights and the  4-hour drive to the Outreach location

Good health, timely negative COVID-19 test results and protection of all kinds

Every participant to be rested and prepared for the spiritual opposition that can accompany open doors for effective ministry
Friday, 7/8 | Numbers 6:24-26
The unity of the Spirit to reign among the team members (staff, medical, Outreach, workers) and for all things to be done in love

Fellowship to begin during Erev Shabbat dinner tonight and to grow all week

Help from above in adapting to a new time zone, new food and a different culture

Blessings and favor for each team member's family back home
Saturday, 7/9 | Philippians 2:13
Each participant to be prepared, equipped and anointed to fulfill God's purposes through them

Successful orientation and training for each Outreach department and area

Mild weather throughout the week and that the Lord would draw many people to receive spiritual and physical care
Sunday, 7/10 | Matthew 19:14
Ease and order, effective treatment and miraculous healings as the Clinic opens today

The Zehra Kids team, led and staffed by indigenous workers, to be fully equipped with love, unity and God's heart and vision for children

Children to know Yeshua (Jesus) and understand their identity, calling and heritage in Messiah as Jewish Believers
Monday, 7/11 | 2 Thessalonians 3:1-3
Open doors and favor for the Living Waters team as they distribute LifeStraws® and share the Good News in nearby areas

The Word of God to run swiftly, accompanied by signs and wonders, and produce fruit for eternity

Unity among our large and diverse team of Outreach partners on this trip – there are Believers from a Messianic Congregation in Maryland, discipleship students from a ministry in Israel, volunteers from South Africa, and several others

Protection against the enemy's schemes and battles of the mind
Tuesday, 7/12 | 2 Corinthians 6:2
Many people to visit the on-site prayer tent and receive salvation, healing, deliverance, and encouragement

Local congregation leaders to have great love, wisdom and stamina as they head up the spiritual ministry

The Lord's strength to operate supernaturally in the fruit and gifts of the Spirit as we love, serve, minister and pray
Wednesday, 7/13 | Colossians 1:13-14
Daily worship gatherings, led by a Lemba choir of Jewish Believers, and team prayer meetings to invade the spiritual atmosphere with the light of the Lord

Any opposing forces in the spiritual or natural realm to flee in the name of Yeshua

This Outreach to prepare the spiritual ground for ongoing ministry in the community after we're gone
Thursday, 7/14 | Philippians 2:10-11
The ability to treat and minister to the maximum number of patients on this last half-day of the Outreach

Order, favor and safety in closing and packing up the Clinic and shalom and salvation for hired workers

A continuing and eternal legacy to be built in Mberengwa for the glory of God
Friday, 7/15 | Psalm 18:19
Safe travels back to the capital city of Harare, with timely negative results for COVID-19 testing required to travel internationally

Rest and a sense of "well-done, good and faithful servant" for each participant

Encouragement for the local congregation leaders as they celebrate all the Lord has done in the last 10 years and encouragement as they do follow-up ministry in Mberengwa
Saturday, 7/16–Sunday, 7/17 | Acts 2:42 
The presence of Messiah to be felt and the Kingdom of Light to advance in Mberengwa, drawing many to Him

 

The Lord to grow the congregations and build up the Believers in Mberengwa
Let's Pray
Lord, sometimes we almost can't believe the amazing kingdom adventures in which You have allowed us to participate through praying, giving and going to reach Your beloved Jewish people. The last 10 years in Zimbabwe among the Lemba people and their neighbors have certainly been a decade-long adventure. We have been invited into history-making moments that only You could bring about. May this Mberengwa Outreach be a glorious next chapter in the story that You are writing on their behalf and for Your glory. In Yeshua's name, Amen.