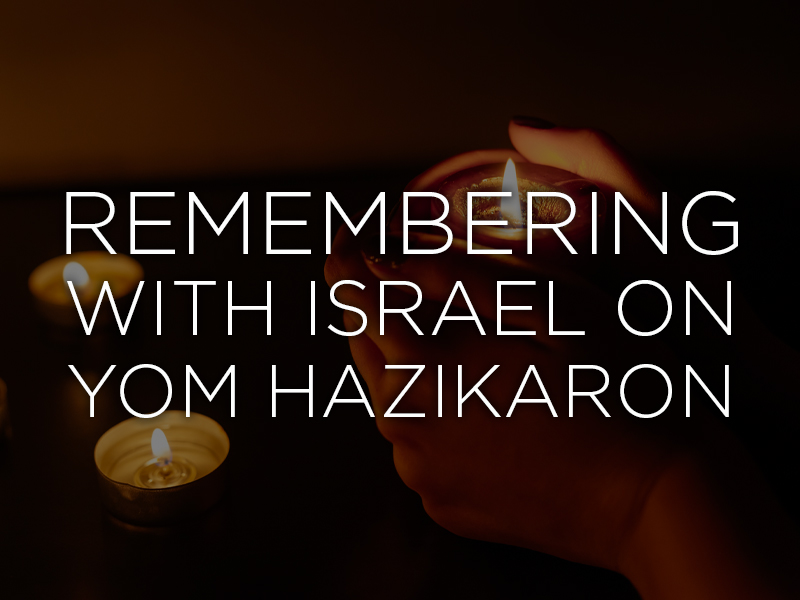 How many of us mourn on our nation's Memorial Day? For most of us, the losses sustained in winning or defending our country's freedom are something distant, removed from us by time or geography. Or compared to the vastness of our population, the number of people directly affected are relatively few.
For example, in America, because our Memorial Day occurs the last Monday of May, it has also come to symbolize the start of summer, leading much of the country toward recreation or rest rather than memorial activities.
But for Israel, it's different.
In Israel, a country the size of New Jersey, it seems nearly everyone either is or knows someone directly affected by a military loss or terrorism. Yom HaZikaron, Israel's Memorial Day, is an active, relevant holiday.
Enemies of Israel continue to threaten her right to exist. Iran wants her exterminated, as do various Arab terrorist groups. Immediate neighbors in the Palestinian territories and Lebanon are home to terrorist groups like Hamas, Islamic Jihad and Hezbollah that continue to plan war and small-scale attacks in hopes of crippling and someday destroying Israel.
Life goes on as usual in Israel – business, education, social gatherings, weddings and funerals continue – but through it all, Israel's enemies are planning their next terrorist attack, rocket barrage or propaganda campaign hoping to turn the world against her. Israeli soldiers die on home soil, targeted by random attacks or while defending against border breaches by those who seek to do her harm.
So, when it comes to a day set aside to honor the fallen soldiers and victims of terrorism, Israel takes it to heart. Television and radio stations run through names of the thousands who have fallen in Israel's wars or by terrorism, both military and civilian. Crowds of mourners visit military cemeteries and the graves of soldiers, showing their respect, weeping and solemnly praying. Strangers visit the burial sites of lone soldiers – those without family in Israel ­– to ensure that no soldier goes unmourned, no life or sacrifice is overlooked.
Two sirens sound on Yom HaZikaron. The first marks the beginning of the Memorial Day, in the evening. The second occurs on the day of commemoration, signaling the reading of public prayers. The blasts are two minutes long, and for that time, all Israel stands still. Traffic, commerce, everything stops, and Israel stands in silence to honor the fallen.
We stand with Israel as she remembers those who lost their lives for the sake of her safety and freedom.
Yom HaZikaron 2020 begins at sunset on Monday, April 27 and ends at sundown April 28 when the national focus shifts from grief to celebration on Yom HaAtzmaut, Israel's Independence Day. Before Israel rejoices in her freedom, she honors those who died to provide and sustain it.