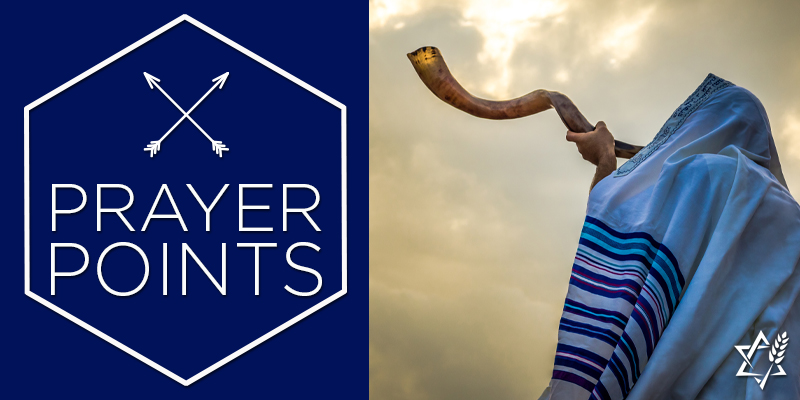 As Jonathan Bernis recently wrote, Rosh Hashanah is a wake-up call leading us into the Fall Feasts. Not only is this season a significant opportunity for our own self-reflection, but it is also a time of deep introspection and weighty significance for Jewish people around the world. To Messianic Believers and many Christians, the Fall Feasts also point prophetically to Yeshua (Jesus), His second coming, and Him truly "tabernacling" – or dwelling – with His people forever.
We are in the Hebrew month of Elul, which is the season of teshuvah (return). It precedes the High Holy Days of the fall: Yom Teruah (Rosh Hashanah or the Feast of Trumpets), Yom Kippur (the Day of Atonement) and Sukkot (the Feast of Booths or Tabernacles). Let's pray for the Jewish people now during this season of returning to God and on through the upcoming Fall Feasts. Our desire is that this season and its themes would reveal Jesus as the ultimate source of redemption and a relationship with God.
Let's pray:
As Jewish people draw near to God during this season of teshuvah, they would experience the reality of Him drawing near to them
Amid this time of self-reflection and introspection leading up to Yom Kippur, they would see their need for righteousness beyond their own
A revelation of God's holiness, as well as His kindness, would lead them to repentance
As they reflect on God's 13 attributes especially on Erev Rosh Hashanah (the evening when Rosh Hashanah begins) and Yom Kippur, they would encounter Him as the God of compassion, loving kindness, mercy and forgiveness (Exodus 34:6-7a)
The true covering (the kippah – as in Yom Kippur) for sin would become apparent and received by Jewish people: complete atonement through Yeshua the Messiah
Through receiving the salvation and righteousness provided by God in Jesus, Jewish people around the world would know that their names are written in the Lamb's book of Life
These fall holy days are introduced in Scripture as the Lord's annual invitations to sacred practice and reflection with Him. Beyond the ongoing annual observances, they each point to God's redemptive plans as perfected in Yeshua and ultimately fulfilled in the Last Days upon His glorious return, when He will dwell with His people forever. Amid today's global uncertainties, unrest and speculation about what the future holds, the Fall Feasts point to the faithful God of Abraham, Isaac and Jacob, who watches over His people and the world. He provides fulfillment of all His promises through Yeshua – Messiah, Savior and King.
Let's pray:
Father, Thank You for this season of teshuvah and the Fall Feasts. You have laid the foundation for redemption for every Jewish person who turns to You in these weeks leading to Yom Kippur. Your heart, as well as Your promises and provision through Jesus, are available to all who turn to You and call on You. As Jewish people seek to understand themselves more and know You better during these Feasts, bring them into saving knowledge of Yeshua. In Jesus' name, Amen.