We are in the midst of a Medical Outreach to Kechene, an area of Addis Ababa, Ethiopia. This is our first "Specialty Clinic" in which we have no general medical care, but are focusing on eye care (including cataract surgery), dental care, gynecology, dermatology, physical therapy, nursing/urgent care and minor surgery. We have treated more than 3,500 patients at the mid-way point.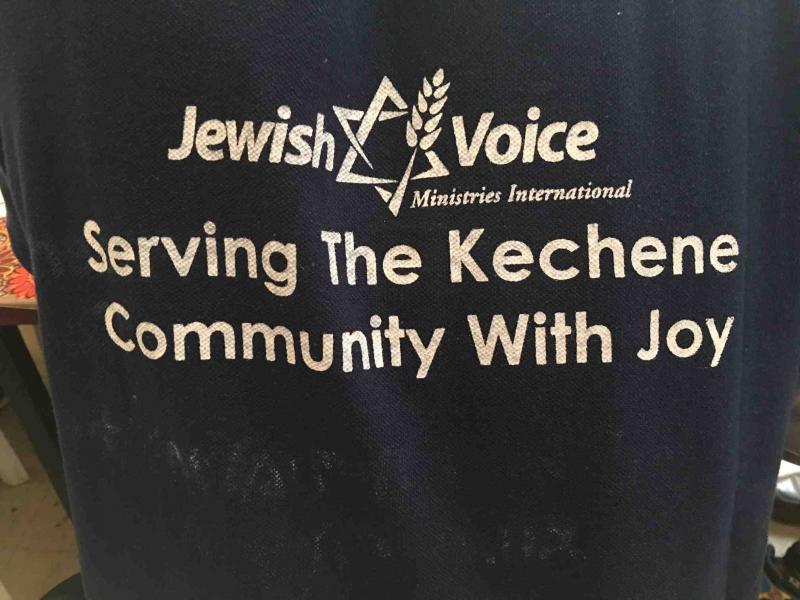 Our team of 50 international volunteers includes two surgeons who are performing operations simultaneously. We are also blessed to have the services of dozens of local medical professionals and over 130 local support contractors, many of whom are from the Beta Avraham Jewish community in Kechene.
Several blocks away, the Bet Abraham Messianic Congregation hosts a prayer and counseling Open House where patients and any member of the community can come to receive one-on-one ministry and hear the Good News of Yeshua. Jewish Voice Outreach Partners are assisting the congregation in interceding for the Clinic and praying with those who visit.
Kechene is nestled among the slopes and ravines of Addis Ababa's tallest mountain, and it is Ethiopia's rainy season right now. We are holding our Outreach in an existing community clinic where flash flooding is a common problem that often makes the main passageway between buildings impassable.
In the weeks prior to our arrival, JVMI's Ethiopian staff rebuilt the clinic's drainage system to solve flooding issues that have plagued the center for months.
Like clockwork each afternoon, thunder rumbles through the community and the skies release heavy rains. The neediest of patients put up ragged umbrellas or huddle together to wait out the storm in line with the hope of being seen before the day ends. The elderly try to stay dry under an old, canvas, community-owned tent. Sawdust covering the dirt entryways to the area eases the muddy conditions to help prevent slips and falls.
Our eye specialists got right to work restoring sight to cataract patients on the Clinic's opening half-day. The following day, patients returned for bandage removal. Smiling faces and gratitude filled the eye department, and our correspondent noted, "I don't think I'll ever grow tired of seeing this joy and happiness." Eye surgeries are continuing throughout the week. 
Before the Clinic opens each morning, the team gathers together under a big, white event tent. After a time of worship, they hear any announcements and instructions for the day.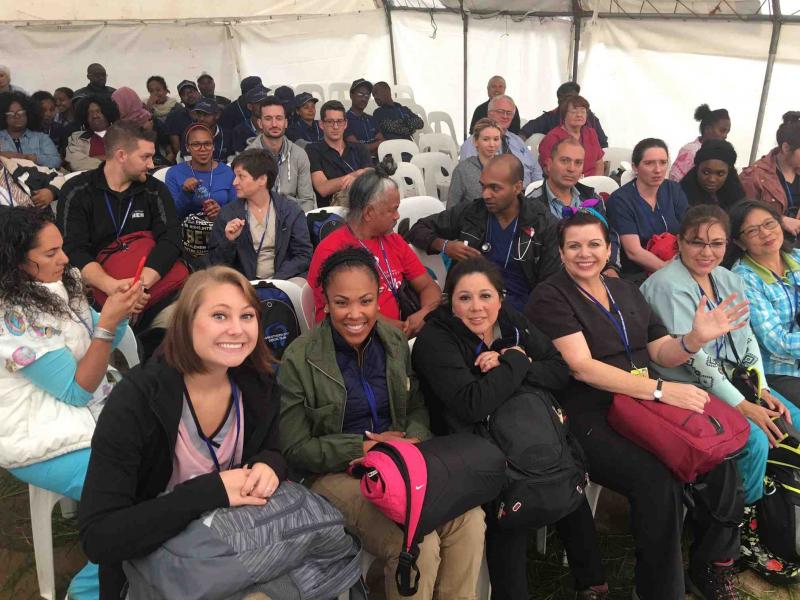 Children are always excited when a Jewish Voice Clinic comes to town. They watch as big busses drive through their cobblestone neighborhood carrying dozens of international team members. As our partners emerge to make their way to the Clinic, they are greeted with a crowd of curious, smiling young faces. The children love to have their pictures taken and see their images on our photographer's camera.
We deeply appreciate your prayers for this Medical Outreach. As you pray, we are strengthened, encouraged, and effective in the work we do for these impoverished people. Thank you.
Please click here for daily Kechene Outreach Prayer Points. Help us cover this Outreach in 24/7 prayer by signing up for a time slot on our Outreach Prayer Calendar here.