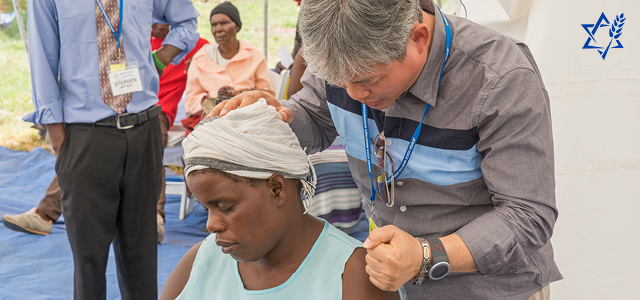 The new year is upon us! After all we have experienced in 2020, I imagine you might feel like me – thankful for a fresh start.
I believe because of everything that took place this past year – from the coronavirus pandemic to political turmoil to numerous natural disasters and more – 2021 will be a crucial year of ministry. God is using all of these challenges to open the hearts and minds of many, including Jewish people in Israel and around the world.
That's why we need you now more than ever!
God has put a massive vision for 2021 and beyond onto our hearts and as we lean into His will we need the consistent prayers and support of friends exactly like you. God will meet our every need in the year ahead. I have no doubt.
I'm asking you to stand with us again as we launch a new year of ministry.
Your partnership tells me you care deeply about the Jewish people. You share our vision "to transform lives and see all Israel saved." You give and pray to make this a reality and I'm so thankful for you.
Please consider starting out 2021 with a generous gift today.
When you do, your gift will be put to work immediately to support, provide care and transform the lives of Jewish people through six key ministry initiatives:
Sharing the Gospel of Jesus, the Messiah
The heart of Jewish Voice Ministries is to introduce people – especially Jewish people – to a saving knowledge of Yeshua (Jesus) as Messiah and Savior because it's the "power of God that brings salvation to everyone who believes: first to the Jew, then to the Gentile" (Romans 1:16 NIV).
We do this in many ways – including our Outreaches in Africa and supporting Holocaust survivors and other vulnerable populations in Israel. But we also share the Gospel through television and other media and as a key part of all Jewish Voice Outreach programs.
Your support helps make it all possible!
Ministering to the "Lost Tribes of Israel"
Communities of Jewish descendants are living in remote areas of the world – including in Ethiopia and Zimbabwe. That's why we have been conducting Medical Outreaches to this part of the world for the past 21 years.
These Lost Tribes suffer terrible isolation and poverty and in some areas are relentlessly persecuted by their neighbors. We're committed to providing physical and spiritual care to these groups of Jewish people – including bringing clean water, plus medical, dental and eye care – as practical expressions of God's love. At each Outreach we also have a prayer and counseling area and over the years have seen God perform miraculous healings of both body and spirit, including thousands of Jewish people coming to faith in their Messiah, Jesus!
In addition, during our more than 20 years of ministry in Africa, we have helped plant 167 Messianic congregations that are locally led and making a significant difference in their communities. We also provide training and discipleship for the local leaders.
Despite the need to adapt because of the pandemic, life-changing ministry still happened throughout 2020 and will continue in 2021. With your support, we are able to come alongside the Messianic congregations to meet physical and spiritual needs of Jewish people and their neighbors.
Your support fuels all of these life-saving, life-changing efforts!
Caring for Holocaust survivors in Israel
The coronavirus pandemic and subsequent nationwide lockdowns in Israel mean Holocaust survivors face even greater needs.
Many have no family living or close by to assist them. They often live alone, trying to survive on very little money. And they are dealing with critical physical, emotional and spiritual needs.
Your support allows us to partner with local Messianic ministries to provide much-needed dental and vision care for Holocaust survivors and establish relationships with them. We want to let them know how much we care and share the Good News about their Messiah, Jesus.
We support more than 80 ministries and congregations in Israel that are run by local Jewish Believers. That means, with your help, we're not only ministering to Holocaust survivors, but we're also able to assist other vulnerable populations in Israel who are struggling with even basic necessities – including widows, orphans, recent immigrants and single mothers.
Standing in support of Israel
For 2,700 years, Jewish people have suffered the most enduring persecution in history. Anti-Semitism is still widespread – we've seen recent incidents in the news in the Middle East, Europe and the U.S. Not to mention ongoing threats and hostility against the Nation of Israel.
Your support enables Jewish Voice to speak against the evil of anti-Semitism wherever it occurs. And whenever possible, we offer encouragement and practical help to Jewish people suffering isolation and persecution.
Please stand with us in support of the Nation of Israel and encourage others to pray for Israel and for Jerusalem. We believe the reestablishment of a Jewish homeland is a fulfillment of biblical prophecy and an important landmark leading to the return of Jesus and the establishment of God's eternal Kingdom.
But it simply isn't possible without your partnership!
Teaching the Jewish roots of Christianity
God called Abraham and promised that his descendants would be God's Chosen People and a blessing to all the nations of the world. He kept His promise by sending His Son, Jesus, to be born and live as a Jewish man.
But many Christians today don't recognize the extent to which their Christian faith is built on a Jewish biblical worldview.
Through your support, you'll serve Christians through teaching about the Jewish roots of their faith, the Church's responsibility to Israel and the Jewish people and how to share the Good News of the Messiah with Jewish people.
Reaching people with our media and ministry resources
Millions of people are reached each year by Jewish Voice media and ministry resources. Our flagship television program – Jewish Voice with Jonathan Bernis – and other television specials reach hundreds of thousands with inspirational messages.
Your support also helps Jewish Voice produce a range of quality products to inform and inspire, including books, CDs, DVDs and online media resources.
Our new online magazine teaches the Jewish roots of Christianity. It also keeps readers informed on our activities and issues such as current events in Israel and the fulfillment of Bible prophecy.
And just a few months ago, we launched our new podcast A Jew & A Gentile Discuss, bringing a biblical viewpoint to life, faith and current events from different perspectives.
With your gift today, you'll help support all six of these key ministry initiatives to care for the needs of Jewish people worldwide.
I believe, after what we've all experienced in 2020, this new year has the potential to be our greatest year yet for reaching Jewish people with the hope of Jesus, their Messiah!
In particular, the challenges brought on by the coronavirus have created an openness to the Gospel unlike anything we've seen in decades. That's why it's so important to hear from you soon – for the sake of the Jewish people, who I know you care deeply about.
Thank you for your partnership. And God bless you.