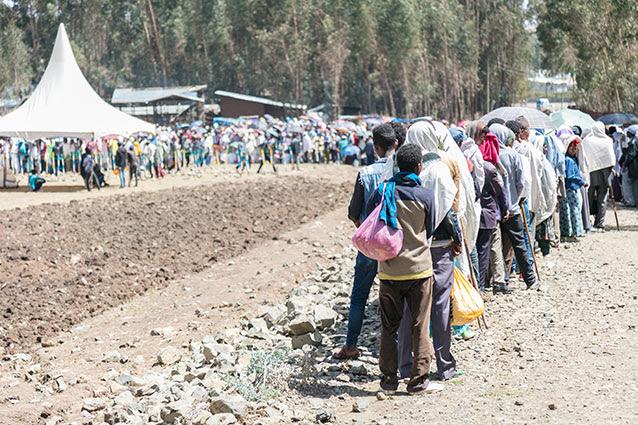 As soon as we opened the Jewish Voice Outreach Clinic in Debre Birhan, Ethiopia, the skies broke open with a downpour. But heavy rains discouraged none of the hundreds of people waiting in line to see medical professionals. An elderly woman near the front lavishly thanked two Jewish Voice Outreach Partners for being there. Throughout her verbal expressions of appreciation she never stopped kissing their hands.
The woman had come to the Jewish Voice Ministries Clinic for eye treatment. Vision issues are abundant in Debre Birhan, and we were blessed with two additional ophthalmologists on this Outreach team resulting in 3,258 eye treatments! Additionally 255 eye surgeries were completed during the short week. More importantly, we witnessed more than 400 professions of faith in Yeshua (Jesus), despite the prayer room's off-site location.
The Debre Birhan Outreach team broke records, welcoming the most patients Jewish Voice has ever treated in a five-day Clinic – 15,919! Michael McClellan, JVMI's Executive Vice President and Chief Financial Officer, reminded the team that the accomplishment wasn't about breaking a record.  "It's about not turning people away," he said.
Debre Birhan, Ethiopia - 2018
15,919 Patients treated, including …

1,157 Dental Patients treated
3,379 Eyeglasses distributed
3,258 Eye treatments completed
255 Eye surgeries completed
114 Successful minor surgeries

Clean Water Distribution

12,540 Individual LifeStraws distributed
124 Family LifeStraw® units distributed
2 Community LifeStraw® units distributed

406 Verbal professions of faith in Yeshua
You touched 15,919 lives in Debre Birhan, Ethiopia, with your prayers and financial gifts through Jewish Voice Ministries. That's an astonishing number of people who received care because of your partnership. Thank you for choosing to make a difference in their lives.
Help us continue to spread hope, healing and the Good News of Yeshua to Jewish people and their neighbors in Ethiopia