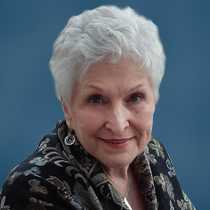 It is with sadness that we report the passing of Dorothy (Dotti) Solomon, a beloved member of the Jewish Voice Ministries International Board of Directors.
Dotti was a dedicated leader, servant and an inspiration in Messianic Jewish ministry. She served two elected terms as the only female president of the 102-year-old Messianic Jewish Alliance of America (MJAA). For two decades, she was Executive Director of the Messianic Jewish Israel Fund (MJIF).
Dotti and her husband, Robert, co-founded the first Messianic Jewish synagogue in the Southeast United States, Congregation Beth Hallel in Roswell, Georgia. Her commitment to the Jewish people and Messianic movement was further evidenced by her faithful service on the boards of several organizations in addition to JVMI, including Jewish Believers & Friends, Yachad Ministries, MJAA, and the Fellowship of Israel Related Ministries (FIRM).
"It has been a privilege to know and serve with such a dynamic, faithful woman of God," said Jonathan Bernis, president and CEO of Jewish Voice Ministries. "We will greatly miss Dotti and extend to her family our prayers for God's comfort and peace."