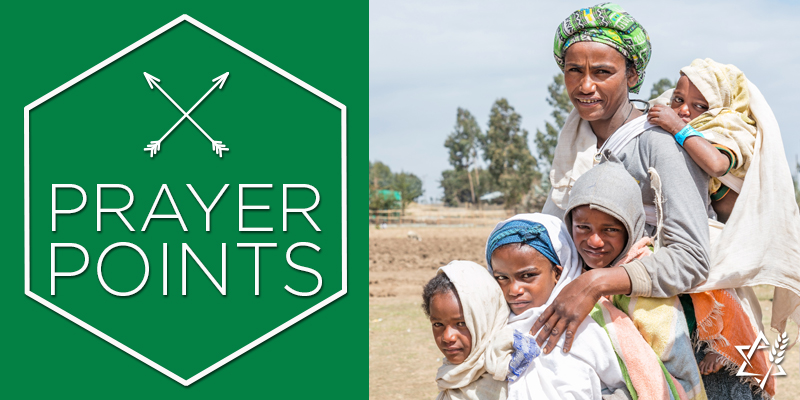 We are prayerfully expecting the Lord to do wonders during our first Medical Outreach of 2020 in Enewari, Ethiopia. We chose to minister in this area of the Amhara Region because 75 percent of Enewari's population is Jewish. The Messianic congregation of Addis Ababa, three hours away, is already engaged in this area, laboring for kingdom impact. Last year, several JVMI team members visited Enewari with leaders from the Addis congregation. Together they stood on a vacant lot. Recently, our team saw on that same piece of ground a beautiful new school that the Addis congregation had built for this rural area. The Lord is working!
Please pray with us that they can acquire the land adjacent to the school for a congregational building so worship meetings can begin. We are also asking the Lord for this Enewari Outreach to bring many people to faith in Yeshua (Jesus), people who can one day worship in the new building.
Will you join us in interceding for the Enewari Outreach, day by day, as well as for the 3-day LifeStraw® Outreach in another region afterward? Daily prayer points are below, and you can sign up here for a time slot to pray from home. Please pray for:
Wednesday, February 26–Wednesday, March 4 • Isaiah 45:2–4
Smooth, timely completion of pre-Outreach set-up

Good working relationships with staff from the local clinic and area officials before and during the Outreach

God's favor, intervention and anointing in opening the hearts of the community

Wisdom and creativity in how to reach this area with the Good News
Thursday, March 5 • Psalm 32:7–8
Our Outreach Partners as they pack, leave home and begin their travels

Safety, protection and health while traveling and during the Outreach

Smooth flight connections and all luggage to arrive safely with our partners
Friday, March 6 • Psalm 16:5–8
The breaking, in Jesus' name, of any spiritual resistance or opposition in the Enewari region
Easy adjustments to new food, accommodations, culture and time zone

Strong unity and fellowship during the Erev Shabbat dinner at the hotel and continuing all week
Saturday, March 7 • John 14:26
Safe travel to the campsite, involving several hours on dirt roads

An engaging time during the "Messianic 101" teaching today and Sunday's training of the Spiritual Care team

Discernment in hiring local workers to labor faithfully in partnership with Jewish Voice

Accurate, effective communication that includes strong unity and precise understanding between our team and interpreters
Sunday, March 8 • Philippians 1:3–6
God's guidance during the orientation for medical professionals and the final phases of Clinic set-up

A great start to the week of ministry as the Clinic opens Sunday for a half-day

Tremendous favor with the community as we bring Yeshua's love to the people of Enewari through loving kindness, medical care, sharing the Good News and prayer
Monday, March 9 • Mark 16:20
Any local officials visiting the Outreach event to be blessed and ministered to themselves

An outpouring of God's grace that leads to miracles, signs and wonders

The Lord to use every aspect of worship, prayer, love and ministry to shift the spiritual atmosphere in Enewari and expand the kingdom of light
Tuesday, March 10 • Romans 10:14–15
Stamina and anointing for the Spiritual Care team to minister effectively to many all week

Renewal in God's presence during the Ethiopian-style worship time Wednesday night

The daily, early morning worship and prayer gathering to take place without interference, resulting in focus and strength
Wednesday, March 11 • John 4:13–15
The Lord's guidance, favor and direction for team members visiting nearby villages to proclaim the Good News of Jesus and distribute LifeStraw® water filters

Deep unity with the congregational leaders from Addis Ababa with whom we are partnering

Many people each day to be open to the Good News and receive Jesus the Messiah
Thursday, March 12 • Ephesians 3:20
Energy for the team and staff members to finish the week well

The Lord to multiply efficiency and each person's efforts among this relatively small Outreach team

A good night's rest and effective strategies for Friday as we end the Enewari Outreach Clinic
Friday, March 13 • 1 Corinthians 14:33
A smooth and orderly Clinic-closing this morning and safety as the departments pack up

Evidence that the Lord helped us do more than we are able, ministering to more than we thought possible

Safe travel back to Addis Ababa and a refreshing, restful Erev Shabbat meal together
Saturday, March 14 • Matthew 25:23
Each participant to experience the Lord's "Well done, good and faithful servant"

The Lord to continue sharing His heart for Ethiopia with our Outreach Partners as they enjoy time in the city

The testimony meeting Saturday – that God's glory and faithfulness will be proclaimed
Sunday, March 15 • Isaiah 52:7
Journeying mercies as our Outreach Partners travel home

Rest for team members – some of whom are staying longer – and the Addis Ababa congregation leaders who have served alongside us all week

God's guidance and effectiveness as the congregation leaders follow up on interest cards from the Outreach and continue their ministry to people in the Enewari area
Monday, March 16 • Psalm 91
Safety, energy, protection and health for the few remaining JVMI team members flying to the Somali Region of Ethiopia and then traveling on rough roads today

Wisdom and discernment in this mostly Muslim region, which also includes a Jewish population

The Holy Spirit's continued guidance in everything we do here (and everywhere we go)
Tuesday, March 17 • Galatians 6:9
Good relationships with the local medical providers, authorities, and community members

Enough LifeStraws® to bless each person who comes, giving them clean water in the name of the One who is Living Water

This effort to open people's hearts to the goodness of God through Jesus
Wednesday, March 18 • 2 Corinthians 2:15
Safety for our team members traveling back to Addis Ababa and then all the way home

Recuperation for each team member who, at this point, has ministered internationally for weeks

The fragrance of Yeshua and the ongoing ministry of the Holy Spirit to continue to flow and bear fruit in both regions long after we leave
Let's Pray:
Lord, we are so privileged to go where we go and do what we do, all at Your request and empowering. And all for Your glory! May these two regions, by these two different types of Outreaches, be saturated with the love of Messiah Jesus through the compassion, good deeds and Good News given in His name. May Your kingdom expand and Your body be built up as people receive care, and their lives are changed. In Yeshua's name, Amen.