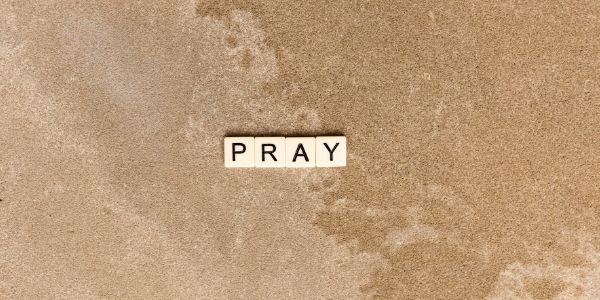 In this season of coronavirus, we are seeing the Lord expose our idols and connect us together to glorify Him! As we keep our eyes focused on our King, we will operate in new ways, creative ways, ways that have been the work of the Kingdom all along. 
One of those ways is prayer! 
Corona, as in coronavirus, means crown. We are not giving coronavirus first place in this season. Instead, as we crown our King Yeshua with all our affection and attention, we can activate our faith and heartily engage in the Kingdom work of prayer.  
Praying together does not require us to be physically present with one another.  The unity (or coming together) that is required to see our prayers answered, to see God's will be done and His kingdom come, is the prayer of agreement, not physical location. It's the unity of the Spirit as we pray according to God's Word. 
So, we are putting out a call to our partners to come together as a community of Believers praying from home in this challenging season. And we want to do two things to equip you and to help you engage with us in this strategic prayer initiative. 
First, we have seven strategic prayers to pray during this time period. They are strategic at any time because they are based on God's Word. However, particularly in this season when our attention is being diverted in every direction, we need some specific focal points, prayer targets if you will. We want to call our focus back to the Lord's prayer priorities that he shares with us in His Word, and so we are sharing these strategic Scripture prayers with you. 
Second, we want to give you a tangible way to plug in and show that you are "on the wall" in prayer. We're going to do that through a prayer calendar, where you can commit to a time slot and intercede from home. Let's mobilize to cover the hours of the days and nights over the next three weeks. This is an invitation for us all to answer the Lord's call to watch and pray so we can see His Kingdom come on the earth in answer to prayer. 
Here is a shortened version of the 7 Strategic Prayers for this Season. You will receive the full version when you sign up for your prayer slot:  
Pray for the peace of Jerusalem, and for Israel and the Jewish people 
Seek God for the city (your city), the nations, and leaders 
Pray for salvation for the Jewish people and their neighbors around the world 
Petition God for global revival and the awakening of the Body of Messiah 
Intercede for healing from COVID-19 and other infirmities of body and mind 
Pray for your sphere of influence and the people and places God is putting on your heart 
Finally, pray for Jewish Voice Ministries as we, like you, navigate this unprecedented time along with all its challenges and opportunities 
Below is the link to the 7 Strategic Prayers Schedule for Monday, April 27th to Monday, May 18th. When you sign up to pray from home, you will receive an email reply including the full version of the 7 Strategic Prayers for this Season. 
One of the most magnificent and mysterious ways that God enlists our partnership in His plans and purposes is through prayer. Do not minimize the effectiveness of your prayers. Do not default to saying, "Well, at least I can just pray," or "I suppose all I can do is pray." Determine to take your place in God's presence and pray! 
Your active, effective prayers can impact individuals, communities, nations and the globe. So as a community of prayer, praying from home, let's begin!