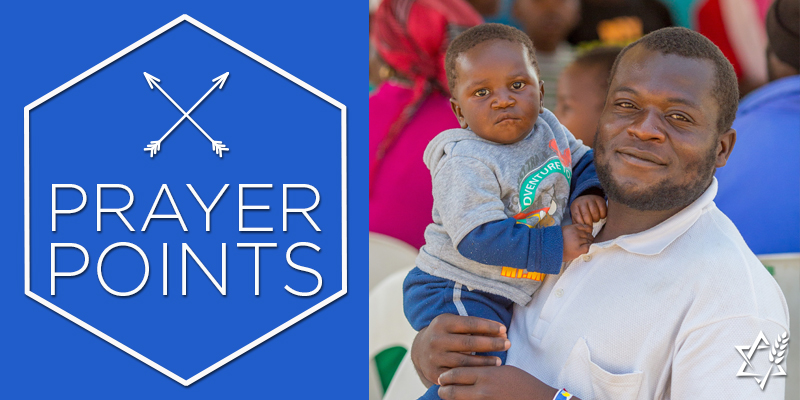 We have experienced such joy ministering in Zimbabwe over the years. We've especially loved encountering and partnering with the Lemba Jewish people who live there.  Aware that their DNA traces to the "kohenim" or priestly line of Israel, we have prayed for their prophetic destiny to be released as they come to know Yeshua (Jesus) as Savior and take their place in the Body of Messiah.
One of the things that we've noted about the people of Zimbabwe is their resilience.  However, over the past year, as their nation has come under increasing difficulties, we've watched their ability to bounce back wear thin.
Now, the nation is dealing with the coronavirus.  They have been in a lockdown that was recently extended for two more weeks, accelerating fears that the protective measure will leave many citizens even more vulnerable to hunger and lack of care and resources than they already are.
We are thinking of the many Zimbabweans we know and care about as well as their nation. Please pray for some of these practical aspects of life in Zimbabwe right now:
The ability to find and purchase basic supplies during the lockdown, especially since many of the less expensive vendors are now closed

The businesses of our dear ministry partners in Zimbabwe (who help us with much-needed services such as accommodations, catering, and transportation for our ministry) to be able to stay open as many of them depend on tourism or the airline industry for their livelihood

Congregations and churches as they seek to provide essential supplies to members, partner ministries and families in their neighborhoods

God to move the hearts of those with strength, resources and ability to effectively mobilize in serving others – especially the most vulnerable, such as the elderly – in practical ways others during this season
In addition, we would appreciate your prayers regarding our scheduled Outreach to Chitsungo, Zimbabwe, in July. Please pave the way with prayers for:
Wisdom for our team on the ground

The availability of supplies

for the Outreach and our teams

Clear communication, favor and guidance from local authorities

Grace to work through the myriad of details that we need to consider in light of COVID-19

Clarity on any adaptations we might need to make and creativity as to how to do that

The right individuals to be assembled into a strong, effective, and unified team
How our hearts go out to this nation and its people!  We are trusting the Lord for His provision and that His redemptive purposes for Zimbabwe will be fulfilled. Will you join us in prayer for them as well as for our ministry there?
Let's pray:
Father, we believe You have plans for good and not for evil for the people and nation of Zimbabwe. Would You mobilize prayer, connect Believers and sustain their faith? Would You provide wisdom, healing and resources for all Zimbabwe's citizens? Most of all, we ask You to enable the Good News of Jesus to spread throughout the land, bringing salvation, hope and lasting change.  And Lord, would You use us to be a blessing to Zimbabwe? In Yeshua's name, AMEN!