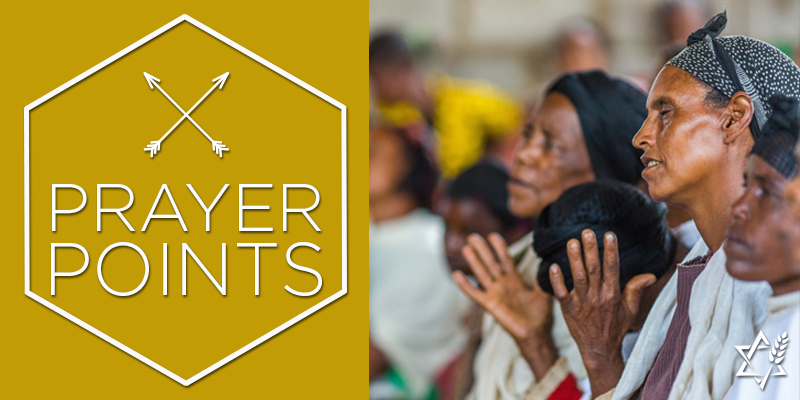 Ethiopia is on our hearts right now, especially as COVID-19 is devastating countries all over the globe. As one of the key nations in which we minister in Africa, we long for the Kingdom of Light to come in greater measure to this country. Would you join us in praying for Ethiopia, the nation and its people?
Please also pray for Jewish Voice's work there and for those we minister to and with whom we partner. There is a complex interplay of many social, economic, tribal and religious issues in this land. Our prayers CAN make a difference!
Please pray for:
Wisdom and unity of the government in dealing with the COVID-19 crisis and for protection of lives and the economy
Preservation of food resources amid crops ravaged by locusts. Pray against hunger as swarms have already affected possibly one million people in Ethiopia alone
A calm, orderly process to upcoming government elections, currently postponed due to COVID-19, and God's outcome to prevail
Positive change to come out of the violent response to the Gospel during our Outreach in Northern Ethiopia last month
Full restoration, though no one was physically harmed, for any who were the focus of this angry opposition
The eyes of those against the Gospel to be opened to the truth
Greater freedom of expression for and acceptance of those who believe and proclaim faith in Yeshua (Jesus)
Clear direction from the Lord for Jewish Voice as we seek Him regarding how to best minister and reach out to Ethiopia in the months ahead
Blessing, favor and creativity for all the Ethiopian congregations and their leaders as they seek ways to continue ministering and preaching the Gospel during this challenging, coronavirus season
Let's pray:
Father, please shine the light of the Good News and hope of Yeshua in Ethiopia right now. The threat of COVID-19 looms; there are dark predictions about the economy, and even the locusts are creating literal clouds of darkness. Oh Lord, You are the One who can break through every hardship, including the opposition of those who try to snuff out the Gospel's light. Please, help, heal and save Ethiopia now! You are their Light, their true hope and salvation. In Yeshua's name, AMEN.