Joseph had lost his sight to mature cataracts. In fact, it'd been years since he'd been stripped of his vision. And now he lived in darkness.
Joseph could rarely leave home.
But when he heard about our Jewish Voice Medical Outreach, he suddenly felt a spark of hope.
Joseph is just one example of the kind of despair we encounter in our Medical Outreaches throughout Ethiopia and Zimbabwe.
So many Jewish people and their neighbors in these areas have no other help or hope to restore their eyesight, heal their bodies and transform their lives.
That's why the work we do together is so critical. You and I are the vehicles of God's miraculous work to those He calls us to serve.
Through your support, you're providing opportunities for Jewish people and their neighbors — in greatest need — to receive critical eye care, exams, eye surgeries and much more.
But more than that, through these efforts to restore sight, you're also a part of opening the "eyes of their hearts" to experience and encounter the presence and power of the living God.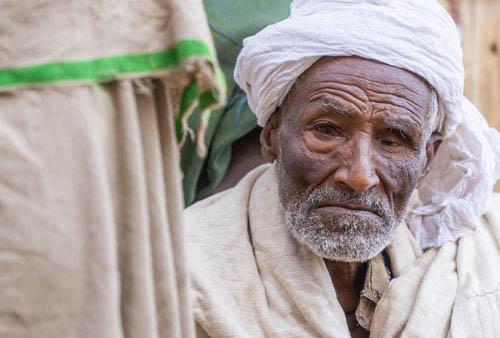 All of this, including critical medical and dental care, costs just $30 for one person in need.

I'm writing to you today, because we've just received an extraordinary $25,000 Matching Gift that will DOUBLE the impact of your support when you give by November 30.

Here's what that means for you — every $30 you give will reach TWO people in need with care and resources that will save their lives… and the hope of the Gospel that will transform their souls!
I thank God for this Matching Gift opportunity. It couldn't have come at a better time.
When Joseph came to our Medical Outreach in Kechene, Ethiopia, he feared he'd never see again. But he'd heard about the miracles that have taken place before.

I don't know how long he'd walked. Or how he managed without his sight… but I do know that after treatment, Joseph would never be the same.
Our Medical Outreach team performed an eye exam on Joseph's eyes. The cataracts that had stolen his sight were very advanced. He immediately went into surgery to have the hardened film cut and removed.

After recovering, Joseph was overwhelmed by his sudden ability to see again — people's faces, the light, the colors.

In tears, Joseph cried out: "Glory be to God!"

It was clear to Joseph that God was at work in this special moment. That His presence was there. That He hadn't forgotten Joseph — and He was willing to meet his greatest need!

This is just one example of the power and potential of your generosity. Through your support, lives are being saved, touched and transformed.

That's why your immediate gift — that will DOUBLE in impact when you give by November 30 — is so important!

So please give as generously as you can, knowing your gift will serve TWICE as many people.

And when you give, please know that you'll not only bring physical healing to Jewish people, but also the Good News of Yeshua as Messiah and Redeemer.

Even as I write, we're planning Medical Outreaches across Africa for next year.

In the coming months, our goal is to raise $1,343,636 to provide the vision exams, care and surgeries so many people are desperate for. And also, medical and dental care.

By working together, we can do so much good to support the Jewish people and their neighbors — individuals and families who are struggling right now to even survive!

That's why I'm looking to you, and other partners, to join us in the work God is doing around the world…
To step out in faith…
To walk through more doors God is opening …
To reach as many people as possible with life-saving care and eternal hope…
And through this Matching Gift, your support will go even further to reach even more Jewish people who need our help!

So please send your most generous gift to provide physical and spiritual care to those who need them the most.

Please know I'm grateful for you. And thankful for your partnership in ministry.