---
Join us in ISRAEL for the TOUR of a LIFETIME!
---
Postponed to 2022
More information will be available shortly. Please call (602)-288-5151 for assistance.
You may be wondering why we're inviting you to travel across the world during a pandemic.
We are planning this exciting Israel tour in faith that COVID-19 will be a matter of little concern by tour time. However, in case it (or anything else beyond our control) causes travel restrictions that force us to cancel the trip, you will receive a full refund for any payments you've made toward it. If the tour is able to take place, but you choose to cancel your participation, our regular cancellation schedule listed in the brochure will apply.
2022 – It's your year to visit Israel!
Picture yourself in the Holy Land: Sailing in a boat on the Sea of Galilee. Renewing your baptism commitment along the banks of the Jordan River….
Have you ever dreamed of exploring the very streets and paths where Yeshua walked nearly 2,000 years ago, visiting the sites where He ministered the Word of God and healed the sick? There's no doubt that Israel continues to be one of the most inspirational places on Earth!
It's home to the biblical history of our faith. You'll also gain invaluable insights as we share from Bible passages at the very locations where these events occurred.
Sit on a stone wall overlooking the Sea of Galilee, as you read the Sermon on the Mount at the very site where Yeshua (Jesus) taught it. You'll have an opportunity to pray at the Western Wall, site of the ancient temple. You'll write your special request on a tiny piece of paper, and then slip it into a crack between the ancient stones.
You'll walk through the Mount of Olives, experience the ancient gates and streets of the Old City of Jerusalem and see shepherds tending flocks on the hills of Bethlehem.
Everywhere you turn, the Scriptures come alive. You'll witness architectural digs where biblical sites have been literally unearthed, some separated by centuries yet right on top of one another. It's amazing to see that so many of these well-known stories from the Bible took place in exactly the same spots, but centuries apart.
In the evenings, you'll enjoy luxury accommodations. You'll start and end each day sampling plentiful and delicious Israeli food from sumptuous buffets. And our days will be filled with the sights and sounds of an ancient land and people.
We hope you will prayerfully consider making this the year you join us. I promise that it will be unforgettable and you will never read the Bible the same again!
We look forward to seeing you in Israel,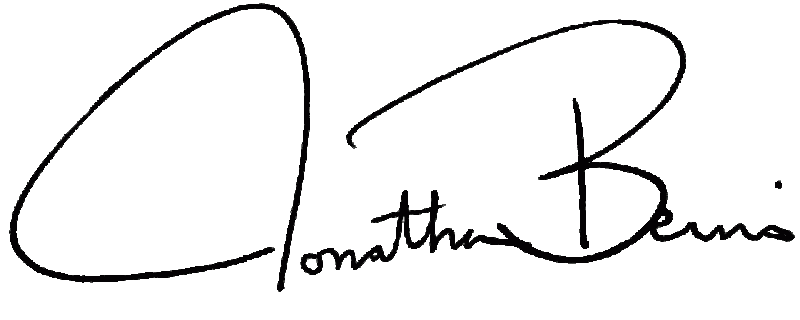 Jonathan Bernis
P.S. – Have you been fortunate enough to visit Israel in the past? If so, we welcome you to make this the year you return. So many of our friends say the trip was even more meaningful the second time. Find out for yourself!
---
Jewish Voice Israel Tour Cancellation Policy: In the event that the Jewish Voice Ministries International (JVMI) Israel Tour must be canceled due to travel restrictions, COVID-19, civil unrest, or other reasons beyond our control, you will be issued a full refund for any payments made toward the tour. If the Israel Tour encounters no such restrictions forcing a tour cancellation and you choose to cancel your participation, our regular cancellation schedule applies (see brochure). JVMI recommends the purchase of travel insurance in case something comes up personally that necessitates you to cancel your trip.
TOUR INCLUDES:
Teachings with Jewish Voice Staff
A journal to document your experiences each day, including lyrics to songs included in our worship sessions
Messianic praise and worship
International round-trip group air transportation and transfers to the group hotel (included with International Air Packages only)
Outstanding four and five star accommodations
Daily breakfast and dinner buffets (at the hotel)
Lunch (while out touring)
Travel by private, deluxe, air-conditioned motorcoach, with licensed, hand-picked tour guides on each bus
Wireless headset provided so you can hear your tour guide at all times
Porterage, taxes and entrance fees to all sites
Tips for Guides, Drivers, and Hotel Staff including Waitstaff, Maids, Porters and Front Desk
OUTSTANDING TOUR FEATURES: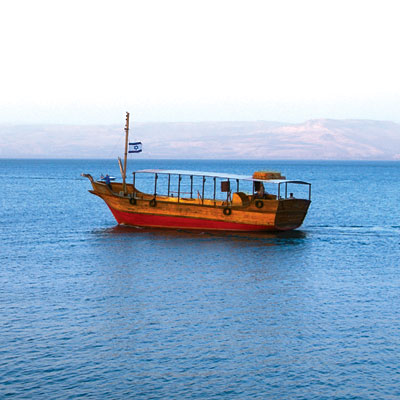 Wedding vow renewal on the Sea of Galilee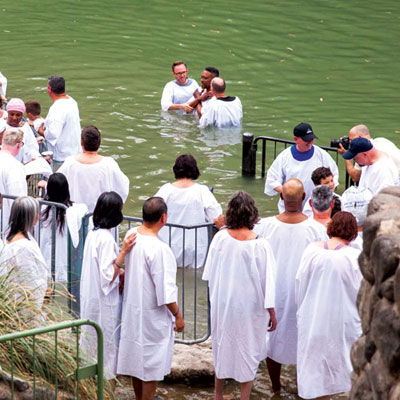 Immersion (baptism) at Jordan River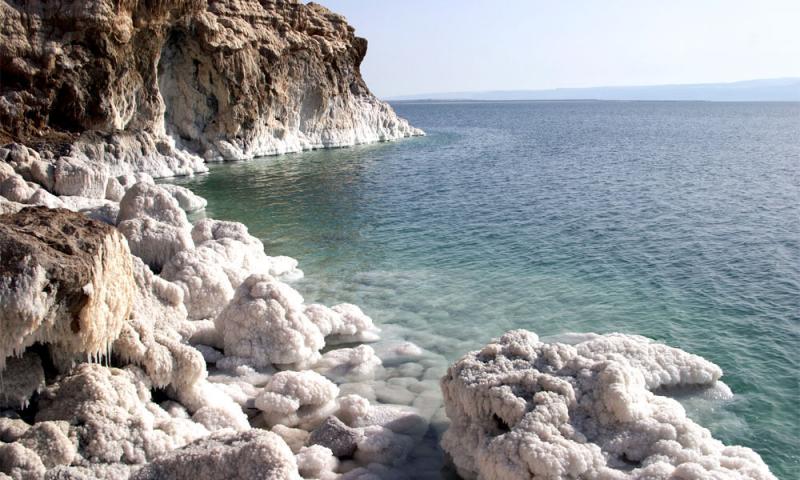 Swim the Dead Sea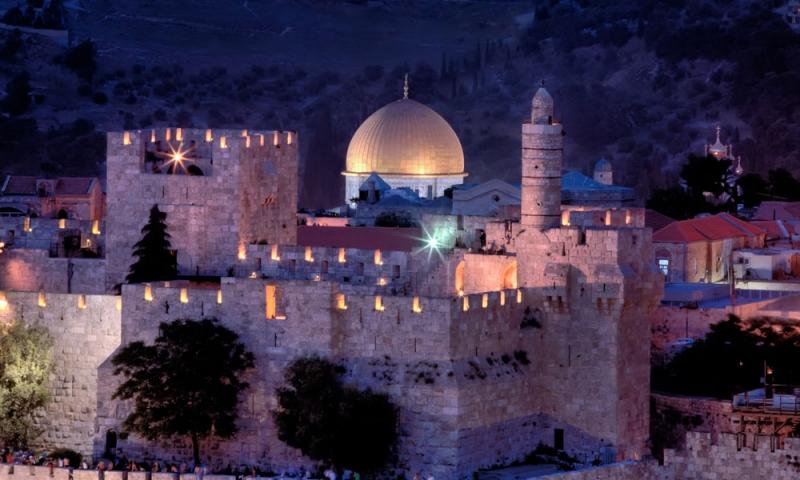 Temple tunnels under the Temple Mount
YOU'LL ALSO SEE: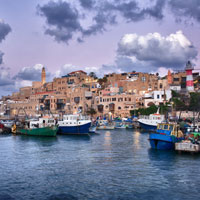 Jaffa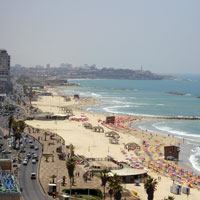 Tel Aviv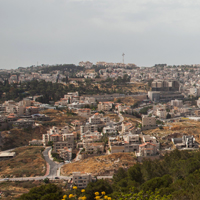 Nazareth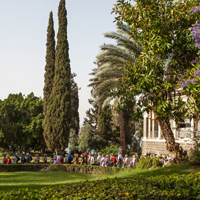 Mount of the Beatitudes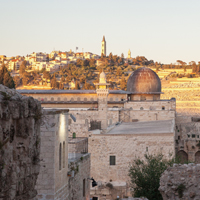 Jerusalem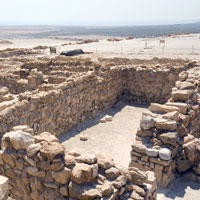 Qumran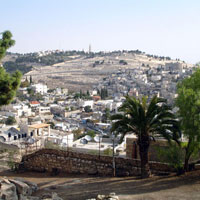 City of David Site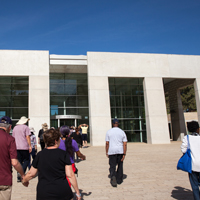 Holocaust Memorial Museum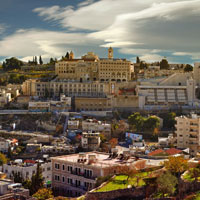 Bethlehem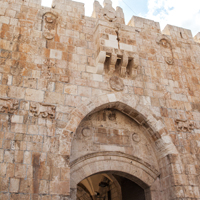 Lions Gate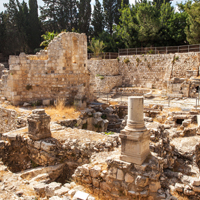 Pools of Bethesda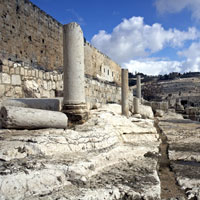 Old City Jerusalem
ABOUT:
Caesarea
Caesarea, on the west coast of Israel, is known today for its beautiful beaches. In biblical times, it was an important port city named for Caesar Augustus by Herod the Great. In addition to the massive harbor, Herod constructed a grand palace for himself at Caesarea, as well as a large theater and impressive aqueduct. Caesarea is often mentioned in the book of Acts, and Paul was imprisoned there before being sent to Rome. The extensive ruins are fascinating to tour, down to the detail of signage that mentions Pontius Pilate.
Caesarea in Scripture:
Acts chapters 8–12, 18, 21, 23 and 25
Megiddo
Tel Megiddo is an ancient city whose remains form a tell, or archaeological mound. Situated in northern Israel, excavations at Megiddo have unearthed 26 layers of ruins that archaeologists believe span up to 8,000 years. With its strategic position overlooking a main travel route between nations, it was a vital military center for Israel during King Solomon's reign. Megiddo's Greek name is Armageddon (from the Hebrew "Har Megiddo"), and this is the location where, according to Revelation 16, the Battle of Armageddon – the final war – will take place, when Yeshua (Jesus) will return.
Megiddo in Scripture:
Joshua 17:11, 2 Kings 23:29, 2 Chronicles 35:22, Zechariah 12:10–14, Revelation 16:16
Capernaum
The seaside village of Capernaum was home base for Yeshua (Jesus) during His earthly ministry. There, He marveled at the faith of the Centurion and then healed his servant from afar. He taught with authority in the local synagogue – the ruins of which remain today – and the people were astonished. He healed the paralytic whose friends lowered him through the ceiling. In Capernaum, the demon in a man cried out to Yeshua, "You are the Holy One of God!" Excavations in Capernaum have revealed remnants of what is believed to be the apostle Peter's home. Yeshua states in Scripture that He had no home of his own, but there is archaeological evidence that He often stayed – or met with His disciples – here.
Capernaum in Scripture:
Matthew 4:13, Matthew 8:5–17, Matthew 17:24, Mark 1:21–27, Mark 2, Mark 9:33–37, Luke 4 and 10, John 6:22–59
Western Wall
The Western Wall is the holiest site in Judaism. It was built as a retaining wall for the foundation upon which the Temple stood. The Temple Mount is now occupied by a Muslim mosque, so the Western Wall is as close as Jewish people can get to the ancient Temple. The Prayer Plaza fills with worshipers from all over Israel – and the world – who come to pray at the Wall, often slipping notes into the gaps between its large golden stones. In Israel, the Western Wall is known as the Kotel and a wall separates men and women worshippers.
The Temple in Scripture:
1 Kings 5–8, Ezra 3–6, Psalm 5:7, 11:4, 29:9, 65:4, Matthew 24:2, Revelation 7:15, Revelation 11, Revelation 15:8
Western Wall Tunnels
The Western Wall is one-third of a mile long, and the Prayer Plaza exposes only about 230 feet of the Temple Mount's foundation. An underground tunnel adjacent to the Wall reveals its full magnitude. Outfitted with informative features and virtual models, the tunnel tour also leads to the Western Wall section considered to be closest to the location of the Temple's Holy of Holies.
The Temple in Scripture:
Psalm 27:4, Psalm 48:9, Psalm 138:2, Ezekiel 40–43
Masada
The desert fortress of Masada overlooks the Dead Sea and is the site of a great tragedy. Survivors of the Roman destruction of Jerusalem – including the Temple – in 70 C.E. fled to Masada. Roman armies pursued and laid siege to the stronghold. When it became evident there was no hope of victory, the 900-some Jewish defenders of Masada preferred death over slavery to Rome. Jewish people in Israel today see Masada as a symbol of their determination to be free in their own land.
The tragedy at Masada is not recorded in Scripture.
Mount of Olives and Garden of Gethsemane
The Mount of Olives is in a range of peaks along the Kidron Valley that leads to the Temple Mount. David fled to the mountain to escape his son Absalom, and Yeshua frequently visited its heights. Descending from the Mount of Olives for His Triumphal Entry into Jerusalem, Yeshua wept over the city of Jerusalem. Bible prophecy reveals that, at His Second Coming, Yeshua will stand on the Mount of Olives and it will split in two, allowing the people of Jerusalem to flee the perils taking place in the city.
The Garden of Gethsemane is located at the foot of the Mount of Olives. Gethsemane means "oil press," and the area was once a fertile olive grove. The Garden contains gnarled and twisting trees believed to be hundreds of years old. In the Garden of Gethsemane, Yeshua spent His last free hours in anguished prayer before His arrest, trials and crucifixion.
Mount of Olives in Scripture:
2 Samuel 15:30, Zechariah 14:4, Matthew 21:1, 24:3, 26:30, Mark 11:1, 13:3, 14:26, Luke 19:37, 22:39, John 8:1
The Garden of Gethsemane in Scripture:
Matthew 26, Mark 14, Luke 22, John 18
Mount Zion and the Upper Room
Mount Zion is the tallest point in Jerusalem. In the Bible, Mount Zion likely referred to the Temple Mount.
The Upper Room was where the disciples ate their Passover meal (the Last Supper) with Yeshua, who instructed them to observe "until He comes again" what we call Communion today. It was also where the disciples gathered after Yeshua's death, where the resurrected Messiah appeared to them, and where they waited for the Holy Spirit. It was likely both a synagogue and a room used by travelers, common of "upper rooms" in Yeshua's time, which were located over tombs. The Upper Room that is toured was built in the 14th century, intended as a reconstruction, and it sits above the traditional location of David's tomb.
Garden Tomb
At this tranquil setting, the earth shook, the stone was rolled away and an angel declared, "He is not here; for He is risen, just as He said." The Garden Tomb is believed to be the place where Yeshua was buried and rose from the dead. The site is a large collection of tombs in a garden setting. The chamber that many believe was the tomb where Yeshua was laid – based on Biblical descriptions – is carved into a rock wall and houses a stone burial bench like the one on which Peter and John found Yeshua's abandoned grave clothes. Those who wish can enter the tomb. We'll also share communion together as we visit the Garden Tomb, remembering the glory and power of His resurrection to defeat both sin and death.
The Tomb in Scripture:
Matthew 28, Mark 16, Luke 24, John 20
Mount Carmel
Mount Carmel is praised in the Bible for its beauty. It is the location of Elijah's great showdown with the prophets of Baal. He challenged them to beseech their god to ignite a sacrifice on their altar. Elijah did the same with an offering to the God of Israel. Before he did, he drenched the sacrifice, wood and altar with water thus setting the stage for a spectacular display of God's power and sovereignty. No fire was sent to light the offering to Baal, but God brought down a fire so intense that it consumed Elijah's sacrifice, the wood and even the altar of stones beneath it.
Mount Carmel in Scripture:
Joshua 19:26, 1 Kings 18:19‒45, 2 Kings 2:25, Song of Solomon 7:5
Banias
The Banias Nature Reserve is home to Israel's tallest waterfall. It emerges from the foot of Mount Hermon and feeds the Banias River, a principal tributary of the Jordan River. Banias is the site of the ancient biblical city of Caesarea Philippi. It was here that Yeshua (Jesus) asked His disciples "Who do you say that I am?" and Peter replied, "You are the Messiah, the Son of the Living God." Caesarea Philippi is also where Yeshua foretold His death and resurrection.
Banias (Caesarea Philippi) in Scripture:
Matthew 16:13‒19, Matthew 16:24–25, Mark 8:27–28
Mount Zion in Scripture:
2 Kings 19:31, Psalm 48, Psalm 74:2, Psalm 78:68, Psalm 125:1, Psalm 133:3, Isaiah 2:3, 4:5, 8:18, 37:32, 52:7, Jeremiah 31:6, Joel 2:1 and 32, 3:17, Obadiah 1:17–21, Micah 4:7, Zechariah 8:3, Hebrews 12:22, Revelation 14:1
The Upper Room in Scripture:
Mark 14, Luke 22, Acts 1
Church of the Holy Sepulchre
The Church of the Holy Sepulchre is considered the holiest site in Christianity as it is believed to be the location of Yeshua's crucifixion. It is situated on the top of the hill called Golgotha in the Old City of Jerusalem. Various stations mark events in Yeshua's final hours, and the Stone of Unction is believed to be the place where His body was prepared for burial.
The Crucifixion in Scripture:
Matthew 27, Mark 15, Luke 23, John 19