Jewish Voice with Jonathan Bernis Television Show
Jonathan and Ezra introduce an exciting new resource for you. The new JVMI Study Bible is filled with valuable features to enhance your Bible study and time with the Lord.
Troy Wallace, VP of Congregation Leadership and Development at Jewish Voice, joins Jonathan and Ezra for a fascinating conversation about Jesus's appearances in the Old Testament.
Jonathan and Ezra shed light on the intriguing biblical trumpet called the shofar and discuss its use, purposes, and meaning for you today. They'll share an insightful conversation about God the Father and His distinct place in the Trinity. Join them as they examine Easter through a Jewish lens and other compelling teachings, including the Jewish Feast of Shavuot and fascinating information about the "Lost Tribes of Israel." Plus, we'll revisit some of your favorite shows from the past year.
Visit the Jewish Voice website for stations and a schedule of upcoming shows. If you miss a show, don't worry. You can watch episodes online at www.jewishvoice.org/watch.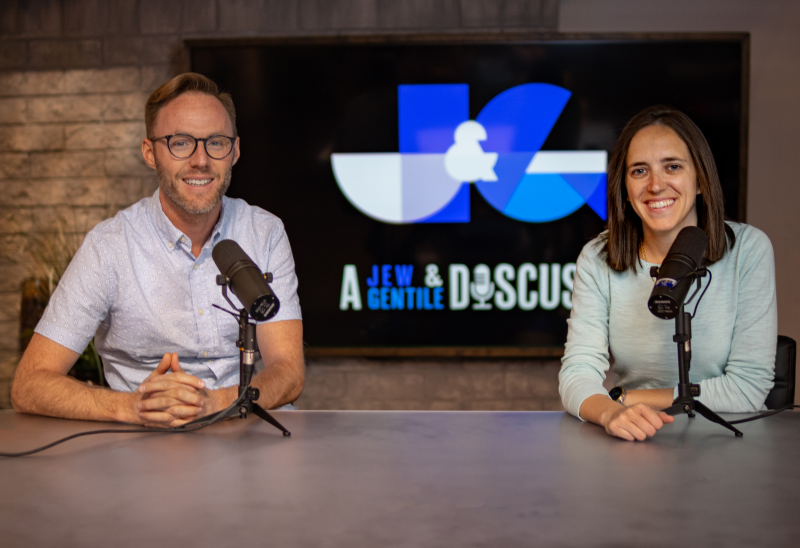 A Jew & A Gentile Discuss – Podcast
We have an announcement here at the A Jew and A Gentile Discuss podcast. We've added video! So, grab a cup of coffee (Lost Tribes Coffee Co. coffee, of course!) and sit down to join Carly and Ezra at their table for another season of compelling conversations at the intersection of Judaism and Christianity.
Season 2 began in February with new shows published every Tuesday. They talked about some curious findings in a recent Pew Survey of Jews in America along with what Jewish people wish the Church understood. They opened up the subject of Messianic Judaism, discussing how to make it less "messy," and answered the question, "Why are Christians acting like Jews?".
They demystified Jewish wedding traditions and exposed "the good, the bad and the ugly" about Christian Zionism. They talked about the Jewish holiday of Purim (and had fun with another holiday food taste test). The End Times are also a topic of conversation, and they shared the differences between Jewish and Christian thought about them.
In Season 2, you'll also discover how the Christian practice of communion originated in Judaism, along with why Jesus was late getting to Lazarus.
Look for A Jew and A Gentile Discuss wherever you get your podcasts. Or listen at ajewandagentilediscuss.org, where you can also submit questions, donate and enter to win free Lost Tribes Coffee Co. coffee.