As a supporter of Jewish Voice, the work you're making possible around the world is nothing short of eternal.
And it's not just providing medical, eye or dental care; supplying clean water; or supporting Holocaust survivors. With every dollar you give, the Gospel is proclaimed among the Jewish people and their neighbors in need. Whether they live in Ethiopia, Zimbabwe or even Israel.
But are you ready to take the next step … as one of our Shalom Partners?
That's an even greater opportunity to make your support go even further, automatically, through a monthly gift.
You should be amazed by the good work God is doing through you. But we hope you'll be inspired by the even greater impact you can make as a Shalom Partner.
Your support in action around the world
As a Shalom Partner, you can make an even greater difference!
This is what you made possible through your support in 2019. And why your decision to join Shalom Partners in 2020 is so critical. Together, we must do more to support the Jewish people and their neighbors who are in greatest need – no matter where they live around the world!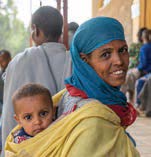 Whether it was a simple check-up or treating a significant injury or illness, your support helped provide medical care to over 94,871 Jewish people and their neighbors throughout Africa.
After spilling boiling water on her foot, Kia* could barely walk. The pain was intense. Without help, infection would begin to fester. And ultimately, she'd lose her foot. Possibly even her life.
Thanks to your support, Kia received medical treatment at one of our Medical Outreaches in Africa – medicated ointments, antibiotics and fresh, clean bandages.
After a week, the difference was nothing short of a miracle. What first seemed like a death sentence for Kia was healing more each day!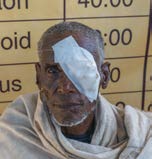 Your support helped restore the vision of over 17,610 Jewish people and their neighbors in Africa – through eye exams and even eye surgeries.
When Joseph* came to our Medical Outreach in Kechene, Ethiopia, he feared his eyesight was gone forever.
Through your generosity, Joseph received an eye exam that revealed significant cataracts. We rushed Joseph immediately into surgery to cut and remove the hardened film that covered his eyes.
After recovering, Joseph was overwhelmed by his sudden ability to see again – people's faces, the light, the colors. In tears, Joseph cried out: "Glory be to God!"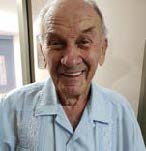 Because of malnutrition and experiencing forced labor, many Holocaust survivors develop dental problems. And many can't afford dentures – or even address any type of dental needs.
But through your support, more than 9,076 people worldwide (including over 300 Holocaust survivors in Israel) got their smiles back after receiving dental care.
Leonid's expression told the tale of a tired, downcast heart. The state of his teeth was such that he needed a full set of dentures. There was no way he could afford the dentures that would change his life and return a smile to his face.
But because of you, Leonid received a new set of dentures through our dental program in Israel. Today he has a new smile. And look at him now!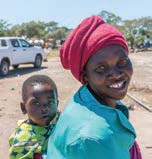 The core of everything we do is the Gospel. It's the greatest blessing you can give to the Jewish people – or anyone – to introduce them to Jesus, the Messiah.
Through your faithful giving, over 754 Jewish people and their neighbors gave their lives to Jesus!
Aida* came to one of our Medical Outreaches in Ethiopia so her children could receive a checkup. But God intended to bless Aida and her children with so much more…
After receiving the medical care they needed, our team shared the Gospel with Aida and her children. They were eager to receive every word of the Good News.
Aida and her children were so moved by God that they gave their lives to the Lord immediately. And to demonstrate their joy in their new faith in Jesus, they were immersed in water baptism.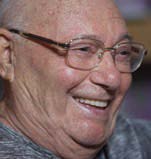 Elderly survivors of the Holocaust have already suffered the worst that man's inhumanity can inflict. But through your support, over 900 Holocaust survivors have received essential care and comfort that have essential care and comfort that have inspired hope in the lives of so many.
Even after Moshe arrived in Israel, he struggled, barely able to feed himself because he was so poor. He'd already endured so much suffering as a slave laborer in the Warsaw ghetto. And his hope had dwindled.
But then he met one of our partner ministries in Israel that helps Jewish survivors of the Holocaust. Through your support, he received the financial aid he needed to begin to thrive. Today, Moshe participates in a Bible study and Messianic Shabbat meals. And though he still can't talk about some of his experiences, he says God is beginning to heal his broken heart.
Join Shalom Partners by giving monthly and make even more stories like these possible!