Welcome to the new and all-digital Jewish Voice magazine, Jewish Voice Messenger. As a ministry, we've been called to be messengers – of the Gospel to the Jew first and also the Nations; of God's ongoing covenant with Israel and the Jewish people; of the Jewish roots of New Testament faith in Jesus; and of the Church's role in seeing "all Israel saved" (Romans 1:26).
Jewish Voice Messenger is a quarterly magazine designed to engage you with messages about Israel, the Jewish people, your faith and the work of Jewish Voice Ministries International. As we present this first issue, we begin by reflecting back on the past year.
2020 was a long and tiring year. You might feel weary and weighed down by the stresses and hardships it brought. You may be seeking renewal and looking for hope. You may need refreshment. A reset would be nice, wouldn't it? If only the simple changing of a calendar year could wipe out COVID-19, resolve division and restore some sense of positive normalcy.
That kind of overnight renewal is not very likely, but there is another type that's even better – and it's available to us every day. God's renewal. Scripture explains that His mercies are new every morning (Lamentations 3:21–23), and there is joy to be discovered in each day because the Lord is with us (Psalm 16:11). When we renew our commitments to spending time with Him and valuing the things He cares about, we experience the kind of renewal we need most.
In this debut issue of the new Jewish Voice magazine, we hope to bring you a reprieve from any anxiety that may exist in your day-to-day life. In addition, we want to inform you about what is going on in the world so we have included an important analysis of the 2020 U.S. presidential election results and what they could mean for Israel.
You'll also notice that we've added some new regular features we think you'll enjoy! "Drawing Near" takes you to the Lord's feet on the topic of prayer, often listing prayer points. In "You Asked," we answer a partner question, and the "Deepen Your Roots" feature makes the connection between your faith in Jesus and the New Testament's Jewish roots. "What Am I? Encountering Israel" offers you a glimpse inside the Jewish State with information about a historical, biblical location in Israel. "Equipping You" lets you know what awaits you on the Jewish Voice television and podcast programs in the current quarter.
So sit back, relax, and prepare to feel refreshed and renewed, even for just a few moments.
May the Lord bless you with shalom as you spend time with Him reflecting on what's offered in this issue of Jewish Voice MESSENGER.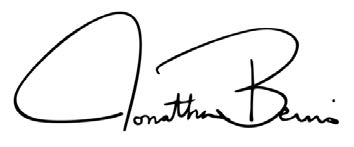 Jonathan Bernis    
President and CEO

Ezra Benjamin    
Vice President of
Global Ministry Affairs